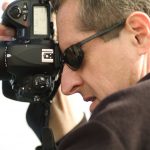 Rob Van Petten had every intention of becoming a famous rock guitar player. Somewhere along the way he began taking pictures of rock bands.  He began to get more work shooting pictures than playing his guitar. Then 35 years went by.
Now Rob shoots fashionable pictures for advertising and editorials. Guitar music still plays continuously in the background. Metal textures, modern architecture and cosmic lighting contribute to the effects in these digitally manipulated images. The use of light energizes the images beyond just illuminating the scene.
Rob's personal portfolio, Near Future, is a colorful collection of fantasy illustrations — cosmic comix. These pictures tell a short story of whimsical future fiction. The toys are high tech. The action is fun and fashionable. The moment is when the techno and the trendy merge.
Rob Van Petten grew up in a Navy family and traveled extensively. He began documenting his families travels in Japan at age 10. At 12 he borrowed his father's Nikon and never gave it back. He is convinced that the power of photographs is a force to implement global cultural tolerance.
Rob received a photojournalism degree from Boston University School of Communication and was photo editor of the BU News.
He had an early introduction to the digital world, developing marketing images for Data General, Digital Equipment, NEC, and other computer giants. He produced annual reports for Gillette, and General Electric for several years. He helped build brand identities for Reebok, Timberland, Tommy Hilfiger, Etonic, Robert Mondavi, Ray Ban, Rockport, Levis, Converse, Bose, Kodak and Polaroid. Rob has travelled worldwide shooting fashion catalogs for clients including Talbots, Carroll Reed, and Johnny Appleseed, Garnet Hill, Bob's Stores and Foot Locker. He has  shot a series of large format print images for Proctor & Gamble, shot a website for Reebok, and a series of images for Nikon's  D3X camera and more recently promotional images for the Nikon D800 camera.
Rob has won numerous Communications Arts, Art Directors Club and Andy Awards over the past 30 years. With a shift toward the internet, his website has won the FWA Award, the TINY Award and Yahoo's Favorite Site. He has been featured in Photo District News, American Photo, Petersen's Photographic, Studio Photography & Design, and Digital Photo Pro. He has endorsements with several equipment manufacturers including Nikon and Dyna-lite.  He recently left his position as the Photography Program Director at the Center for Digital Imaging Arts at Boston University, to develop the Big Shot Workshops speaker series.
Rob speaks regularly on digital imaging topics for the Mentor Series, at the Photo Plus Expo and PMA. Recently his articles have appeared in Nikon World, Nikon Pro, Kodak Pro Pass and Digital Photo Pro.
He believes that the digital desktop is the global melting pot. The internet is the modern messenger of truth and tolerance. He believes that molecular formulas hold the key to good fashion accessorizing. Rob's images lead us to a safer more whimsical vision of the future where modern is amusing and the future is more fun.