Beauty and the Big File
Finally after months in the making… I can talk about the project in the works since April. I can now call this powerful little package by it's real name – Nikon D800. It's been hard to hold my breath for 9 months. Finally I can show you the images and what this camera can do. Let me first just say – 36 MEGAPIXELS. For a guy who likes big images and really, really sharp prints – A 36 megapixel DSLR is astounding.
I have carried a Nikon every day of my life since I was 12. It was cosmically destined that last April my Skype would ping from Tokyo. A distinguished sounding gentleman began asking me questions. "How do you find inspiration? Define the elements of your style. How do you conceive of the futuristic images that you make?" This was a thought provoking conversation. I knew this was going to be an intriguing job. I began secretly test shooting a prototype.
This was a great collaboration with many of the top talented people who bring you these great Nikon cameras – creatives in advertising, art directors, engineers, marketing people, digital imaging experts, film makers and then my own creative crew who help make my pictures come true. It's been a dream project.
The result of the effort is this test series. The D800 is the culmination of several converging technologies in one precise little body. Technology never moves backwards. That being said, we expect gradual improvements. But sometimes a great leap forward in the experience of making pictures occurs when a new piece of equipment is released. I never imagined the next serious camera from Nikon would be 36 megapixels, and 1080p video. (I am still marveling at the quality I get from a 24.5 Mp Nikon D3x.)
"Shoot what you want…" Specifically – shoot beauty & fashion applications for the huge files and the impeccable quality it renders. Make a beauty shot, and a location motion shot. Demonstrate dynamic range, colors and quality, detail and resolution.
What great fun. "Showcase and demonstrate the features of the camera." Each shot was designed to illustrate a specific aspect of the camera.
On the Edge of the Ledge. We needed an identifiable NYC location to make a fashiony shot – with an element of risk. The intent was to show the D800's integration with the Nikon SB 900's Creative Lighting System.
Twenty stories up across from the Empire State Building, 800 ISO outside shooting on the roof – fast action. I used three groups of SB900 Speed Lights to illuminate Carol against the Empire State Building as the sun set.
It was rumored that Mike Corrado ran up and down the stairs of the Empire State Building popping a pink Speed Light, but that has not been substantiated.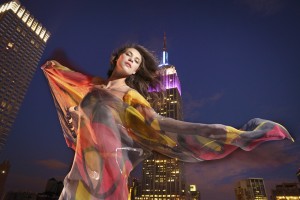 Beauty and the Beast – A dangerous exotic creature with fashion accessories in a highly tamed environment and then add a big wild cat. The sharpness of the fur (and teeth) and the smoothness of the skin and velvet are key to showing what this camera can do. I used a ring-light for a current flashy look.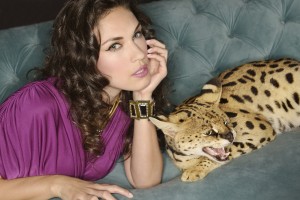 Two-tone Lips. A close up of lipstick shows the color saturation and sharpness of the D800.
I opted for AF-S Micro Nikkor 105mm F/2.8G ED VR to get in real tight.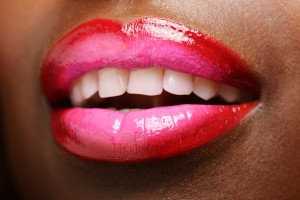 To represent the camera – A Leap Forward – Britt leaps from a glass doorway done with smoke and mirrors.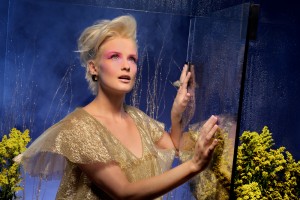 Dynamic Phase Shift demonstrated by shifting the colors on 2 different models, Britt and Anoushka.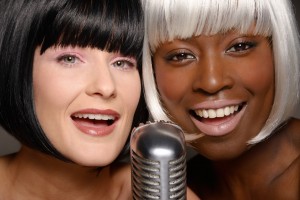 Jewelry – Close up of a face – Anoushka with exotic skin, wild hair and details of rich colorful vintage jewelry. This remarkably sharp shot rivals anything I have shot with bigger formats. The detail in the stones and the texture of skin speaks for itself. I doubt I will be sharpening images from this camera.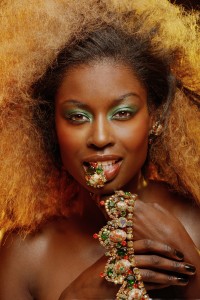 Dynamic Area Focus
36 million pixels is lots and lots of dots. Piles of pixels at full speed. This shot was a test of the Dynamic Area Focusing system. I shot hand held as the model was moving. These big files tell the story of confident focus.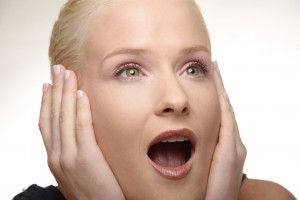 The Team – Producer (Thank you, Carolyn) , hair dresser, makeup artist, stylist, assistants, animal trainers, computer guys, lighting assistant, camera assistants, film crew, technical advisors from Nikon – and of course great catering.
Every Retail Detail
I worked at length with the advertising agency on shot concepts that would illustrate the features of this camera. We wanted to apply this camera to studio fashion and beauty shoots where large files, details and precision timing are all requirements. 8 shots total.
We did a careful casting – 3 models for the shoot. I assembled a super crew. My assistant, Amos Terry, Nikon afficianado, and a solid speedlight guy, digital guru from Boston University CDIA, Keith Brodie, set up 2 iMac 27s to host the images and manage files in Nikon View NX2 and Capture NX2 – flawlessly I might add, with beautiful color and calibration.
Then the fashion crew included hair dresser Kazunori, make-up artist Bernadine Bibiano from the Judy Casey Agency, stylist Julie Ragolia from Jed Root,Inc., and their assistants and entourage… A great team with a fun purpose – just to put this beauty to the test.
We took our prototype D800s into the studio with great anticipation, and spent one full day prepping before we shot. The very first image zapped through the tether and hit the screen with a WOW. The resolution – first of all – is unprecedented. Testing the camera was nothing short of a delight. Crew members – the hair and make-up people, usually too cool to comment, stood in speechless wonder as the first images came up on the screen. Then there was a Group OMG from the crowd. This was different – not only fat, colorful, and crisp, it held the detail in the bright highlights. The screen images look like a medium format camera but the body handles smoothly and effortlessly like a D700. My Medium Format dreams are answered.
This is a camera for someone who wants extraordinary detail and super fine quality. I used to say that a D3x rivals a medium format camera. The D800 changes my inclination toward anything bigger. It feels and looks similar to a D700 though a little smaller and lighter, with the addition of full 1080P video, and several other great updates.
I chose a variety of the sharpest prime lenses and high quality zooms to optimize the sensor quality test.
AF-S

NIKKOR

200mm f/2G ED VR II for the Jewelry shot.
AF-S

NIKKOR

24mm f/1.4G ED for the Empire State Building.
AF-S

MICRO

NIKKOR

105mm 1:2.8G ED for the Lip Shot.
AF-S

NIKKOR

24-70mm f/2.8G ED for Beauty and the Beast, and Leap Forward.
AF-S

NIKKOR

24-120mm f/4G ED-IF AF-S VR II for the Color Phase Shift image.
36mp creates characteristics that look different. The file is 7,360 × 4912 pixels. It's very, very sharp. It holds up to zooming up to 300% without the jiggy edges and pixillation produced by anything smaller. The sharpness is part pixel count and part processing.
The inherent file size can require some unusual treatment. The large capture can make the camera sensitive to vibration more than smaller cameras, requiring faster shutter speeds or a tripod. Even in the studio with flash, I used a tripod on shots done with a 200mm F/2 lens.
Some significant features include:
The huge 36 megapixel sensor generating a file that opens in Photoshop at 206 megabites. The sensor can be cropped into 3 size formats.
Metering has a 91,000 pixel sensor compared to the 1005 of the D3.
Both SD and CF card slots.
Bigger

LCD

, higher def allows bigger brighter image viewing and menu reading.
Smoother dynamic range improvements.
Color phase shift is improved.
51 point 3D auto focus tracking is updated from the previous version.
1080P Video – We shot continuously for 3 days with a number of bodies to document our entire shoot. The results will be released here.
So read all the tech specs from Nikon themselves. Look at what I have done with it in a few days in the studio. I have now shot with this camera for several months and I can just say that I was dying of anxiety that I couldn't show anyone what I was doing.
Just need to close with a huge THANK YOU to all the great people, my friends at NIKON, who entrusted me with this amazing assignment. I am humbly honored to head up this one.